Holy Family Catholic Church began at a meeting in September of 1942 at the home of Joseph Brennan which was attended by Father Daniel O'Donaghue and about twenty parishioners. The first Mass in this Federal Housing area of Linda Vista was celebrated the following Sunday in Mr. Brennan's home. At this first Mass were about twenty five families. Within a month the local Housing Administration Building had to be used, and plans had to be made to accommodate the growth of this spirit filled Family.
As plans for a Church were made, Father John McDonagh became the first pastor in February of 1943. Despite the many hardships of ware and sacrifices that come with war – rationing of labor and materials, Holy Family Church was completed and dedicated on September 19, 1943 by Bishop Charles Buddy. Bishop Buddy commented on the eight hundred parishioners filling the three hundred and twenty five seats that "this beautiful Church of The Holy Family was a Cathedral to our Lord."
Father Joseph Stadler replaced Father McDonagh in 1948 and in 1949 Father Daniel O'Donaghue returned as pastor. Under Father O'Donaghue's direction the Parish built the School and Convent. The School Sisters of Notre Dame staffed the School.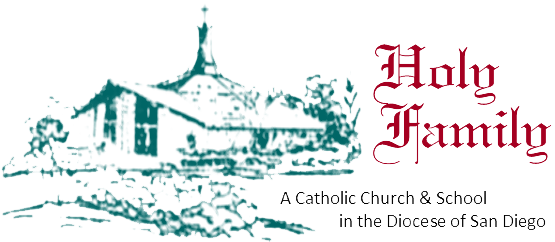 Father John Bland came to our Parish in 1953 and began plans for a larger Church. Property was bought and then in 1959 Father Michael Noonan replaced Father Bland. Father Noonan continued the building fund drive, but died on April 15, 1969. Father Lloyd Bourgeois became pastor and completed the work on the new Church. It was dedicated on October 10, 1971 by Bishop Leo Maher. Father Bourgeois was replaced in 1977 by Father Jeremiah O'Sullivan, and in 1984 by Father Donal Walsh. In 1985 Father Gerald Palcheck became pastor.